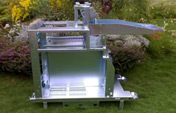 We are Specialized in Zinc plating with trivalent blue, yellow,green and black passivation with optional Anti finger top coats for various special export requirements
We are housed in a carpet area of over 6000 sq.ft area in the center of peenya industrial estate with large approach roads and open areas to park even the largest container vehicle.

We have dedicated areas for stacking incoming materials and suitable racks to safely store finished goods for any duration which may be required.

We are fully equipped with rectifiers with low ripple current,Baths of various sizes and flexible jigs,Whole range of required test and measuring equippments,A trained workforce of over a hundred men who are trained to serve round the clock,A strong chain of suppliers proving environmental friendly rohs approved chemicals,A great banker who always support us in the need of the hour and approvals from all statutory bodies.

We have a seperate team catering to urgent requirements on SOS basis roung the clock to ever support the customer for the last minute delivery schedules.

We have a large combination of flexible process lines to deliver high volumes within a short notice,We can plate your whole assembly to a remarkable finish consistently to reduce the cycle time.

All the materials which leave our facility is thoroughly inspected at different levels and goes with a test report mentioning all required parameters.